Upcoming events
The Sustainability Reporting Network offers regular events to help companies advance their sustainability reporting and stay up to date on current frameworks and reporting standards. This fall, we have partnered with the UN Global Compact networks in Sweden, Finland, and Denmark to offer a range of events for Nordic companies.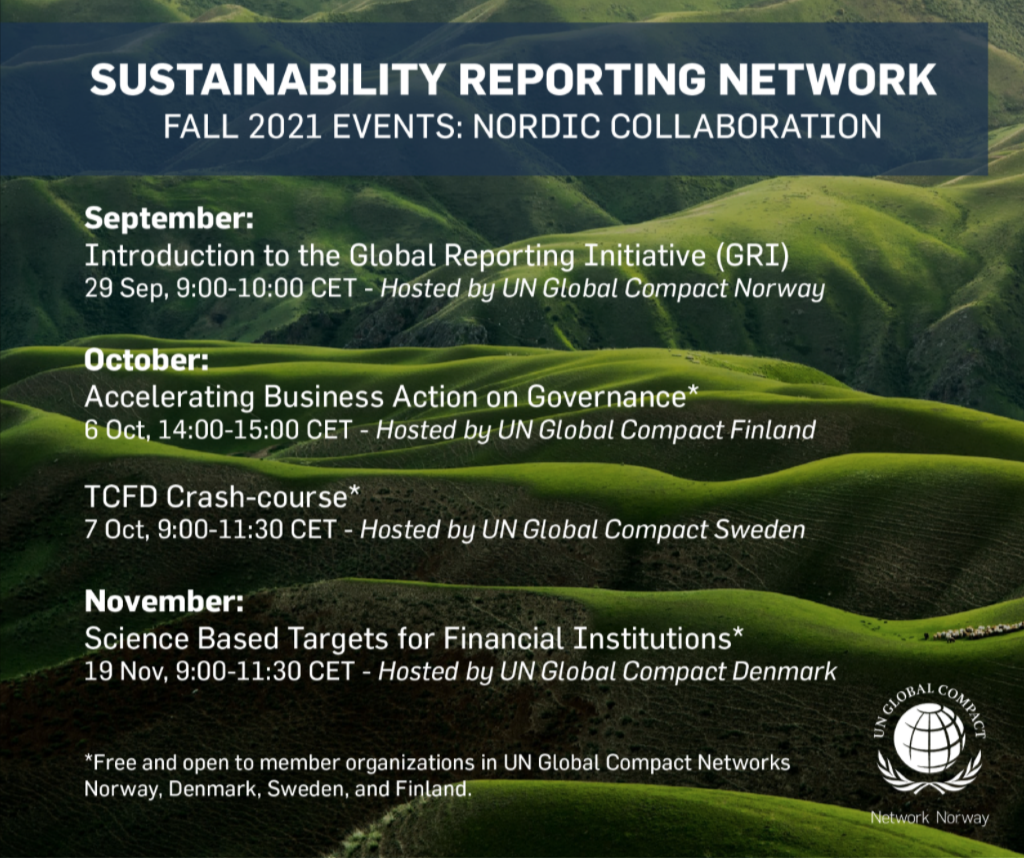 Fall 2021 Schedule:
September:
Introduction to the Global Reporting Initiative (GRI): 29 September, 9:00-10:00 CET 
Hosted by UN Global Compact Norway – Free and open to everyone, regardless of UN Global Compact membership 
An introductory webinar to the Global Reporting Initiative (GRI), the world's most widely used sustainability disclosure standards. GRI creates a common language for organizations to report on sustainability and helps companies improve transparency and take responsibility for impacts. 
October:
Accelerating Business Action on Governance: 6 October, 14:00-15:00 CET 
Hosted by UN Global Compact Finland – Free and open to member companies in Norway, Sweden, Denmark & Finland 
The SDG 16 Business Framework will help companies embrace transformational governance, a principles-based philosophy that calls on business to be more accountable, ethical, inclusive and transparent.
TCFD Crash-course: 7 October, 9:00-11:30 CET 
Hosted by UN Global Compact Sweden – Free and open to member companies in Norway, Sweden, Denmark & Finland 
This crash-course is an introduction to the key elements of the TCFD recommendations, including examples of good practice, and practical steps companies can take to improve their reporting. 
November
Science Based Targets for Financial Institutions: 19 November, 9:00-11:30 CET 
Hosted by UN Global Compact Denmark – Free and open to member companies in Norway, Sweden, Denmark & Finland 
Get a thorough understanding of how financial institutions can set ambitious climate targets through the Science Based Targets initiative.
Fire råd for rapportering
Tidligere møter i rapporteringsnettverket
På høy tid
12. desember hadde vi første møte i rapporteringsnettverket. På tross av at det var rett før jul og på relativt kort varsel, var det fullsatt sal. Det viser hvor viktig del av arbeidet rapportering er for mange som jobber med bærekraft i næringslivet, og at det var på høy tid å få på plass et rapporteringsnettverk!
Gode råd
På møtet ble det delt råd, tips og gitt nyttig informasjon av erfarne rapportører. Karoline Hjertø er bærekraftssjef i Sparebank 1 Østlandet og styremedlem i UN Global Compact Norge og har lang erfaring på området. Andreas Friis er leder i Sustainability Hub. Direktør i Global Compact Norge, Kim Gabrielli presenterte SDG Compass og fortalte om krav til den årlige rapporten man som medlem i UN Global Compact må levere.
Neste møte
Fikk du ikke med deg møtet? Fortvil ikke, det var garantert ikke det siste. Følg med i kalenderen  og abonner på vårt nyhetsbrev for ikke å gå glipp av neste møte i rapporteringsnettverket for våre medlemmer.
Arrangement
UN Global Compact Norges nettverk for rapportering (Sustainability Reporting Network) arrangerer et digitalt arrangement med praktisk informasjon i hvordan du kan implementere taksonomi i din virksomhet, 26.februar. Få innsikt i hvordan andre selskaper anvender taksonomi, samt anbefalinger om hva du bør fokusere på i år. Mer info og påmelding til arrangementet finner du her.
Tidligere møter: Opptak
EU Taxonomy: Practical Insights on Sustainability Reporting
UN Global Compact's Communication on Progress Report and SDG Action Manager
Bærekraftsrapportering for Små og Mellomstore Bedrifter (SMBer)
Hvordan kan små og mellomstore bedrifter best rapportere på bærekraft? Hva vil bankene kreve? Bli med i FNs Global Compact Norge for et Sustainability Reporting Network-arrangement spesielt designet for å gi SMBer praktisk informasjon og råd om bærekraftsrapportering. Vi vil høre fra SpareBank 1 Østlandet om hva bankene vil forvente av SMB, etterfulgt av bransjeeksempler på SMB som arbeider med bærekraftsrapportering, inkludert Fana Sparebank, Scatec Solar og Atlantic Sapphire.
Reporting on emissions through Science Based Targets (SBT)
Why are Norwegian companies setting science-based targets? How can you set them? Join UN Global Compact Norway's Sustainability Reporting Network event and hear from CEMAsys and Agder Energi on the process, challenges, and benefits of measuring emissions and setting these targets. We will also present UN Global Compact's Climate Ambition Accelerator, a six-month program designed to equip companies with the skills needed to set science-based targets and work towards net-zero emissions by 2050.