The future business community needs a healthy and productive ocean.
The Ocean Action Platform identifies specific areas of interest between the finance and ocean sector by bringing together actors from both industries. UN Global Compact Norway's national ocean platform brings together leading actors from finance, business, academia and the public sector for a productive and sustainable ocean. The work on the Norwegian platform is based on the UN Global Compact's Ocean Business Principles and global ocean platform
More info / norwegian translation here.
Benefits
Broad insight into megatrends, new business models and cooperation in the marine area
Close connection to the UN Global Compact's global ocean platform, reports and events
The opportunity to participate as one of 30 committed and dedicated companies in a national network in the ocean area
Overview of ongoing policy formulation and cross-industry business initiatives in the field
Exchange of experiences across industries
Opportunity to provide input to and help shape both new policy formulation and cross-industry business opportunities
Participation in at least three workshops in 2021
Participation in further activities in the platform in the autumn of 2021, which will be launched in due course.
What is the ocean platform?
If the world is to achieve its sustainability and climate goals, the ocean is crucial. The 2nd cycle of the UN Global Compact's National Ocean platform has identified the following areas for special efforts:
1.Blue Finance/New Financial Instruments – (SMEs and Large organisations)
2.Blue Taxonomy for specific industries within the Ocean economy
3.Biodiversity and Nature based solutions – Coastal Ecosystems
4.Science Based Targets
These four areas will also govern the work, in the form of workflows in the Norwegian platform. Working groups are set up in each of the areas to translate these into specific business opportunities and solutions for companies. In addition, a working group will be set up to look more closely at framework conditions related to the four areas.
The platform is led by Cermaq's sustainability manager Wenche Grønbrekk and coordinators are Abhimanyu Manimaran and Aurora Pllana. For participation or questions contact: abhimanyu.manimaran@globalcompact.no or aurora.pllana@globalcompact.no
.
Why a Norwegian ocean platform?
One of the major challenges with the sustainability and climate goals is how we put them into practice and how they are concretely turned into business opportunities. The offshore platform facilitates across industries, to find out how ocean-related sustainability challenges can become business and profitable business opportunities. In addition, the platform will take a closer look at what changes are needed in the framework conditions related to offshore business.
Norwegian members of the ocean platform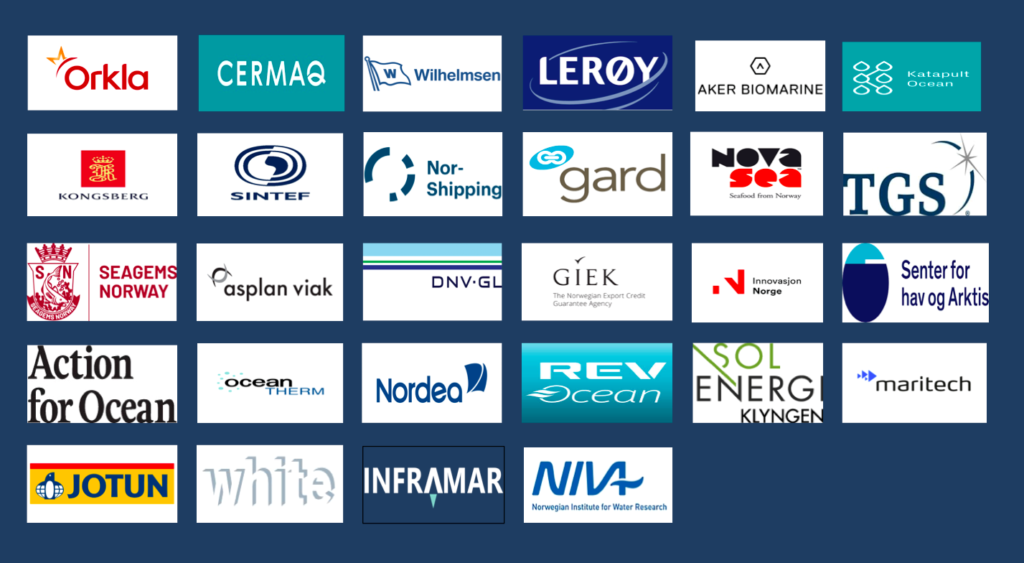 Activities of the platform
Registration in the ocean platform
We want 30 dedicated ocean and finance-related players to be a part of the national ocean platform of UN Global Compact Norway. To cover the costs associated with the work, we have set a participation fee that includes all activities in 2021:
Participation fee 2021
Companies with a turnover of NOK 250 million or more: NOK 30,000, – Includes
participation from up to three representatives from the company.
Companies with a turnover of less than NOK 250 million: NOK 10,000
Organizations, public actors: NOK 10,000
Industry experts: By appointment
In the event of participation in more than one solution platform under the auspices of UNGC
Norway, the fee for participation in further platforms is half price.
Sign up:
Registration is by confirming participation to Abhimanyu Manimaran or Aurora Pllana by email: abhimanyu.manimaran@globalcompact.no or aurora.pllana@globalcompact.no.
Participation in the ocean platform already presupposes membership in the UN Global Compact (or that the company registers) and a paid participation fee.
Documents