PROGRAM OVERVIEW
Learn how to use design thinking to drive innovation and organizational change! In this four-month course you will:
Explore how a design process can be used to solve challenges, drive sustainable innovation and organizational change.

Experience a design-driven and practical innovation process, and be equipped to build change processes into your own organisation.

Understand how to evaluate and measure impact early with tools that drive innovation.

Learn how to involve colleagues, decision makers and other stakeholders in understanding the problem, working on solutions and anchoring the process internally.

Be a champion of inclusion and justice through having a sustainable business model.
PRICES
Each company can send two participants to Sustainabiliy by Design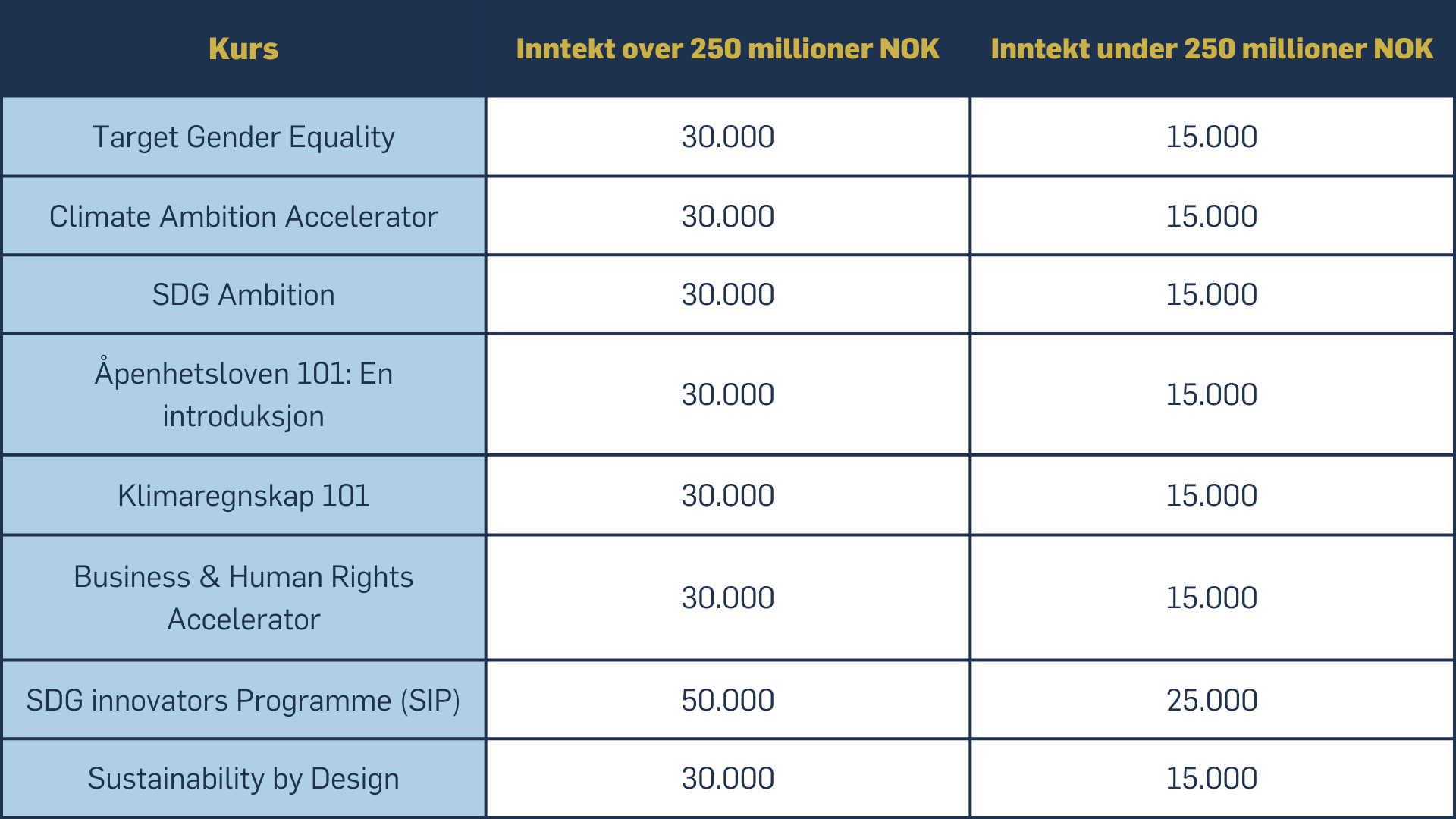 Fordeler for deltakere
Hands-on cooperative learning.

You will go through and learn a design process, methods and framework to apply it in your organization.

Guidance and coaching.

Regular mentoring sessions will be set up for you and your team to discuss course material, explore identified challenges and create solutions.

Networking opportunities both physically and online.

Meet participants and innovators from other companies in the UN Global Compact's network.

Visit the Designit studio.

Understand how the process is used by visiting the Designit studio and observing how they run innovation projects and assess the impact of different innovations.
Fordeler for bedrifter
Embed innovative and collaborative thinking across your organization to take full advantage of your existing capabilities.




– Create a culture of collaboration and curiosity, and create cross-functional teams that can generate concrete results through unconventional measures.




– Use collaborative techniques from workshops to facilitate mutual understanding and establish consensus for problems and solutions and generate ideas.




– Ensure that you are well prepared so that innovation and change processes are successful.

Use methods that prioritize sustainable change and that generate solutions that are accessible, fair and inclusive.




– Use ethnographic methodology to conduct contextual research and uncover people's core needs.




– Measure the ripple effects by both addressing and not addressing the challenge(s).




– Learn to create prototypes and test both products and scenarios to test ideas early and avoid wasting resources.




– Evaluate the immediate and long-term impact of change.
Kvalifikasjonskrav
The companies must be members of the UN Global Compact or willing to join in order to participate in the programme, as well as meet the following criteria:
Must commit to taking measures that increase progress towards achieving the sustainability goals.

Appoint two employees who participate in the program and subsequent events, as well as an «ambassador» at management level who follows the program development, provides support when needed, and participates in the events held at a high level.
The program is held by

As an experienced innovation company with creativity at the core of our business, we work at the intersection of strategy, design, marketing and technology.
From insight and strategy to distinct design concepts for all industries, formats and channels, our entire creative service is set up to tackle the toughest challenges.
PROGRAM TIMELINE

REGISTER YOUR INTEREST
If you have questions or want to register for the program, you are welcome to send an e-mail to medlem@globalcompact.no  or sign up directly here .