Medlemsfordeler
Bidra til å bygge FNs organisasjon og verdens største bevegelse for et bærekraftig næringsliv og fremtid.
Unik tilgang til deltakelse i vårt kompetanseprogram for bærekraft 2022. Programmet er utarbeidet med mål om å støtte bedrifters bærekraftsarbeid, både innen økt kompetanse og i gjennomføring av viktige tiltak.
Funksjonelle nettverk og kurs for bedriftens klima-, bærekrafts- eller sammfunnsansvarlig innen rapportering, menneskerettigheter og ansatte-engasjement. Mer om nettverkene her.
1. Bedriften eller organisasjonens øverste leder signerer følgende brev som bekrefter ønske om medlemskap:
Brevmal for bedrifter Word: Letter of Commitment Word[9791]
2. Fyll ut innmeldingsskjema og last opp brevet:
Viktig: Der du må lenke til nettsiden, bruk hele lenken (inkludert https://)
Innmeldingsskjema for bedrifter
Innmeldingsskjema for organisasjoner
3. Du blir kontaktet av UN Global Compacts globale hovedkontor.
4. Medlemskap godkjent og du blir kontaktet av UN Global Compact Norge.
Bakgrunn om medlemskap i UN Global Compact 
Hvem kan bli medlem?
Små, mellomstore og store bedrifter, organisasjoner og andre aktører kan bli medlem i UN Global Compact uavhengig av antall ansatte og omsetning. For å bli medlem må man søke om medlemskap og blir vurdert av vårt hovedkontor i New York. UN Global Compact godtar ikke alle bedrifter som medlemmer. For eksempel så kan ikke tobakk- og klasebombeprodusenter bli medlem. Du kan lese mer om ekskluderingskriteriene våre på de internasjonale sidene. 
Medlemskapskategorier
Fra og med 2022 vil vi kun ha én medlemskapskategori (participant), i tillegg til nasjonalt medlemskap for medlemmer med hovedkontor og hovedmedlemskap i et annet land (subsidiary).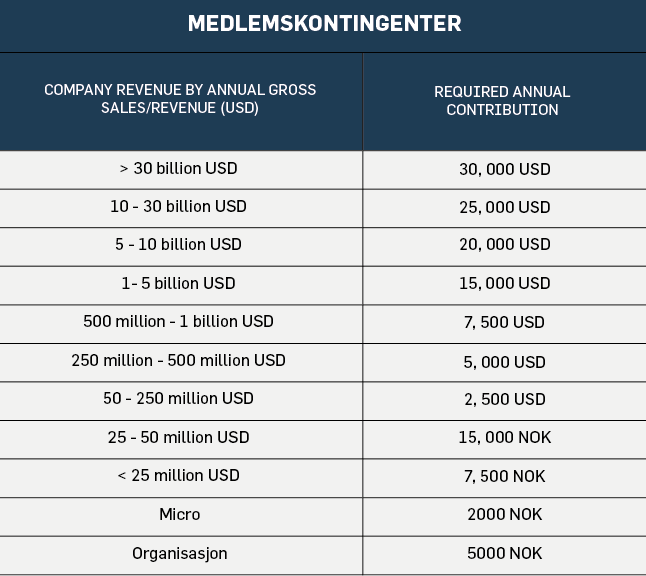 Subsidary: Medlemskapet i UN Global Compact er globalt. Bedriften blir regnet som «norsk» dersom den har hovedkontor i Norge. Dersom en bedrift som har hovedkontor i et annet land, ønsker å delta i UN Global Compact Norges aktiviteter må den derfor være subsidary-medlem. Som subsidary-medlem er det hovedkontoret som har ansvar for rapporteringen og skal inkludere et eget avsnitt om aktiviteter i Norge i den globale rapporteringen.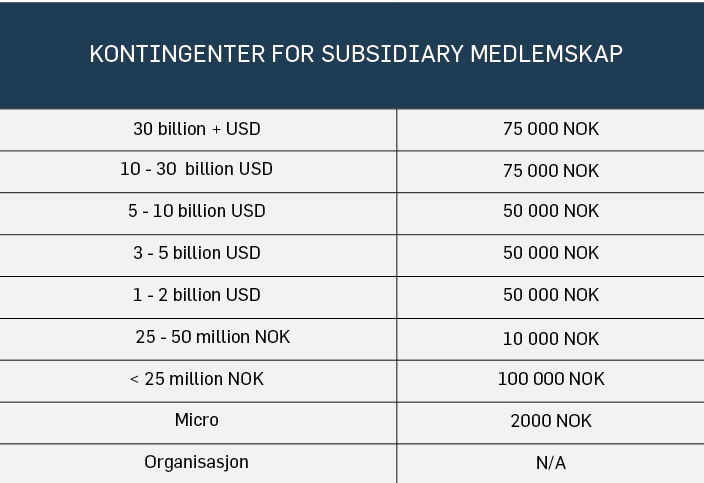 Våre medlemmer
Advokatfirmaet Thommessen
Arntzen de Besche Advokatfirma
Norwegian Shipowners' Association
Confederation of Norwegian Enterprise
Laerdal Medical & Laerdal Global Health
Petroleum Geo-Services ASA
Argentum Fondsinvesteringer
Difi - Agency for Public Management and eGovernment
Norwegian Seafood Council
Ethical Trading Initiative-Norway
Alliance Arkitekturstudio AS
BetonmastHaehre Anlegg AS
Norsk Jernbanedrift/NJD Maskin/NJD Railvac
TGS NOPEC Geophysical Company ASA
Nordic Office of Architecture
Sentralvaskeriet for Ostlandet AS
W. Giertsen Energy Solutions AS
Norsk Gjenvinning Norge AS
Advokatfirmaet Wiersholm AS
Norges Bank Investment Management
Ikano Bank AB Norway Branch
Sparebanken Sogn og Fjordane
Assuranceforeningen Skuld (Gjensidig)
Norwegian Export Credit Agency (GIEK)
Scandinavian Design Group AS
Norwegian Green Building Council
PRICEWATERHOUSECOOPERS AS
Como Communication Moestue
United European Car Carriers
Nordea Bank Abp, filial i Norge
Skogen Design Noguera-Gabrielli
Ernst & Young AS (EY Norway)
Arendals Fossekompani ASA
Wikborg Rein Advokatfirma AS
Centre for the Ocean and the Arctic, Nofima
Leith Executive Education AS
Per Sjovold Waterworks AS
SurplusHub International AS
The Norwegian Solar Energy Cluster (official name Solenergiklyngen in Norwegian)
Aker Offshore Wind Operating Company AS
LINK Mobility Group Holding ASA
Crawford & Company (Norway) AS
Nord-Trøndelag Elektrisitetsverk AS
Universal Logistics Bergen AS
Sustainability Hub Norway (S-HUB)
Coor Service Management AS
HydraWell Intervention AS
The Football Association of Norway
Aker Clean Hydrogen Operating Company AS
Klaveness Marine Holding AS
Select Service Partner AS
Norwegian Centre of Circular Economy
ADVOKATFIRMAET OTTOSEN AS
Shearwater GeoServices AS
NOMAS - Norsk Massehåndtering AS
Howart Compliance Norge AS
Institute for Climate Psychology (Institutt for Klimapsykologi AS)
Nordic Mezzanine Fund I AS
SpareBank 1 Østfold Akershus
Bulk Infrastructure Group AS
Voi Technology Norway A/S
Maritime & Merchant Bank ASA
Stavanger Chamber of Commerce/Næringsforeningen i Stavanger-regionen
Rådgivende Ingeniørers Forening RIF
Norwegian Institute for Water Research (NIVA)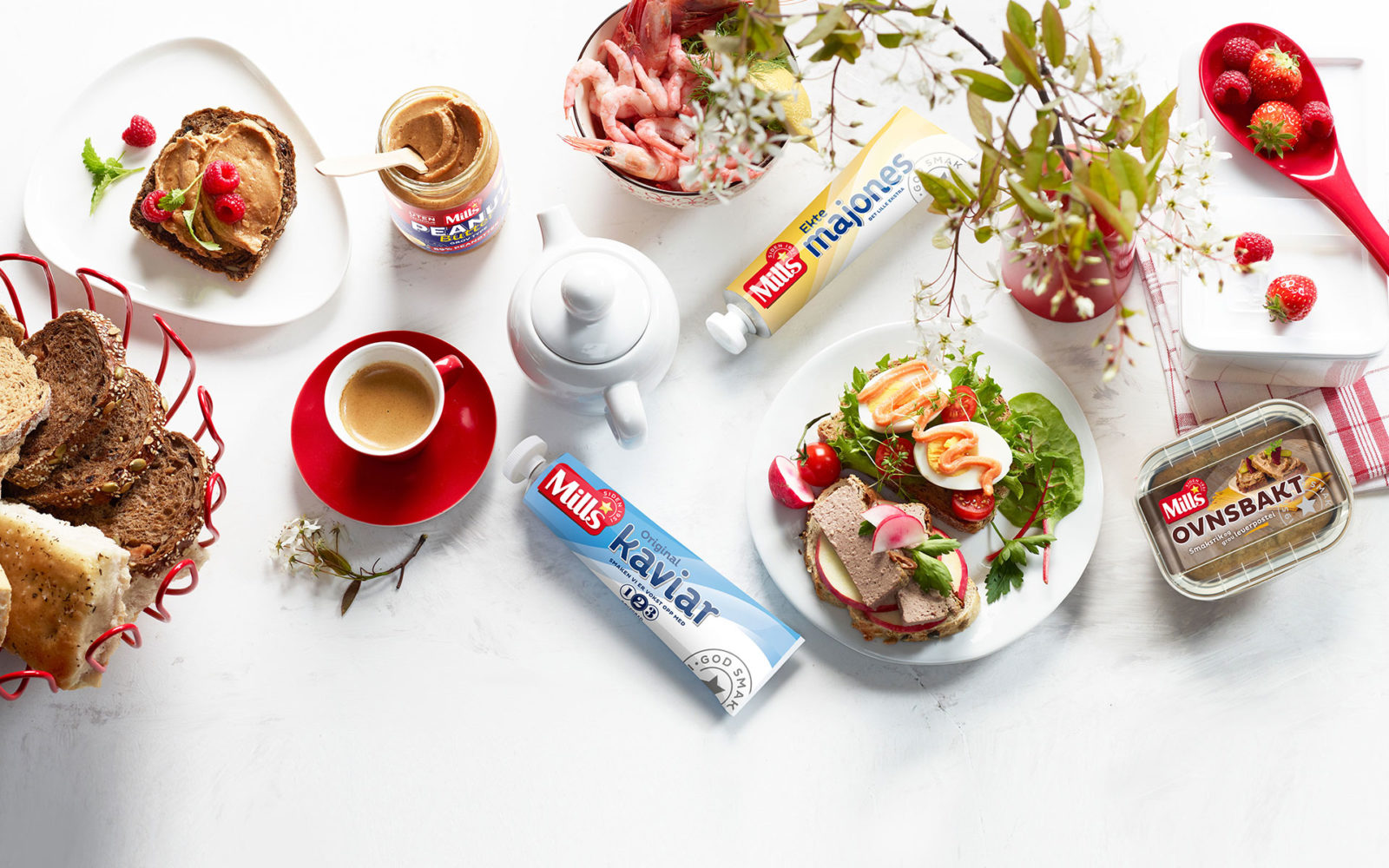 Mills har allerede halvert matsvinnet
Halvert matsvinnet
Mills var første norske produsent til å halvere matsvinnet.
Les mer